China advancing eldercare service industry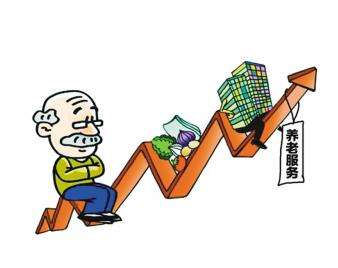 "I have a very happy and colorful life here, and I want to live to be a hundred years old," said an old gentleman surnamed Li, who is over 90 and has been living at the Golden Heights Nursing Home in Chaoyang District, Beijing for four years.
At an average age of over 85, Li and over 280 elders are being cared under the integrated service including living, dining, playing, nursing and treatment. "The combination of medical treatment and eldercare is the featured service offered by Golden Heights," said an official of Beijing Civil Affairs Bureau, adding that the service is the very eldercare mode being promoted by the local government.
Aging society is a common topic in China. According to the standard published by the United Nation, a region steps into an aging society when residents over 60 years old take up 10% of the total population or residents over 65 contribute to 7% of the total population. As early as in 2000, the Chinese government found that Chinese people over 60 accounted for 10.2% of the total population and those over 65 made up 6.96% of the total population during the fifth national census. The two indexes mean that China has begun to be an aging society. This aging phenomenon is particularly obvious in big cities like Beijing, Shanghai or Guangzhou.
Since the 18th National Congress of the Communist Party of China, General Secretary Xi Jinping has been aware of the new problems due to the aging population and has urged the Party and the government to pay more attention to the eldercare program. Xi called for developing eldercare service and related industry on many occasions so as to set up the country's eldercare service system, industrial standards, facilities and human resources and establish an eldercare service system incorporating home, community and institution. Therefore, China's eldercare service industry has developed quickly in the past five years and the sector has become a blue chip for investors.
Golden Heights Nursing Home combines traditional eldercare pattern with health care. In Golden Heights, its community healthcare center not only provides service to the elderly who live in the nursing home but also offers visiting diagnosis and treatment, pharmaceutical administration and clinical care to the aged in the neighborhood. Expenses which meet the specification can be covered by medical insurance. Golden Heights also works with community nursing service networks to make its service available to other areas.
In tandem with the booming eldercare service industry, lack of nursing staff has become the bottleneck restricting the industrial development in China. In September 2015, the first vocational school was established in Beijing for training eldercare professional; and training system has gradually taken shape in the country ever since.